CHARCOAL DRAWING
BALL POINT PEN
AIRBRUSH
LITHOGRAPHY
DRAWING WITH PLUMB MINE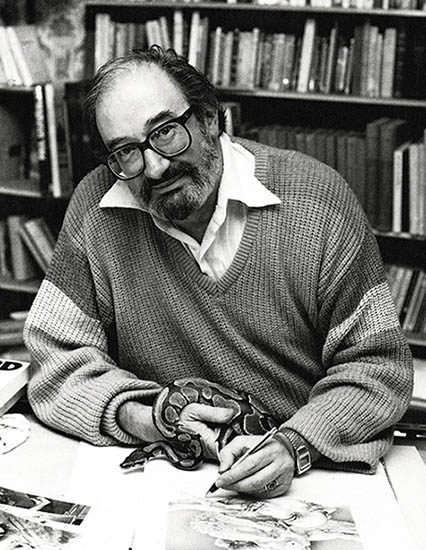 To see a picture by Gérard Gachet is at once to feel the urge to put its effect into words — to capture its unique combination of the romantic, the fantastic and the realistic.
His work carries, as he himself sensed, the landscape and rhythms of the old, Germanic Rhine. Its serried firs seem to loom darkly behind his writhing figures, whose flowing beards and streaming tresses are fanned, twisted and tossed by its relentless current.
But matter in ail its states — grainy, scale, smooth, stickly, tufted — holds equal fascination for this great artist.
Under a stormy light — dark and dazzling by turns — his women bare themselves to his clinical and yet tragic gaze. But the morbid element in Gachet's eroticism is balanced by a sensual feeling for bodily form, for smooth contours caressed by the eye of a painter who may start with abstractions or deal overtly in symbols, but who cannot conceal his own desire, his own voluptuous delight. His fear of provoking a too openly sexual response probably explains his reptiles and batracians — not, as he unnecessarily warned, to be read anthropomorphically. His women, in their naked intimacy, may be as unsettling and provocative as Courbet's, but there is something enigmatic about them — something that repels while it attracts.
He could, of course, be compared with the surrealists and with Bosch, but his artistic personality lies in obsessions which are deeply, irrevocably private and served by secrets of composition and technique which he, like some indefatigable alchemist, discovered for himself.
But the essential lies beyond the words 1 have used to evoke his forms and colours. A picture by Gachet is utterly distinctive.
Jacques LAURENT